Saira Banu, wife of Dilip Kumar, has been sharing beautiful memories of the late superstar. In her latest social media post, Saira shared how Dilip Kumar taught her bowling as he loved to play cricket.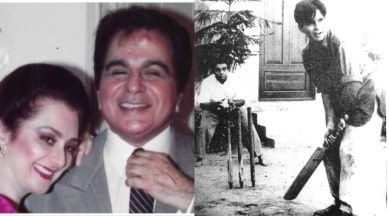 Saira banu remembered the time Dilip Kumar taught her how to play the game of cricket. (Photos: Saira Banu Khan/ Instagram)
Listen to this article
Your browser does not support the audio element.

Ever since Saira Banu debuted on Instagram earlier this month, on July 7, to honour her late husband, thespian Dilip Kumar, she's been sharing beautiful memories of him. Saira, on Tuesday, shared how Dilip Kumar wanted to become the country's best sportsmen but became an actor instead.
You have exhausted your
monthly limit of free stories.
To continue reading,
simply register or sign in
Continue reading with an Indian Express Premium membership starting Rs 91 per month.
This premium article is free for now.
Register to read more free stories and access offers from partners.
Continue reading with an Indian Express Premium membership starting Rs 91 per month.
This content is exclusive for our subscribers.
Subscribe now to get unlimited access to The Indian Express exclusive and premium stories.
Sharing an old picture of Dilip Kumar playing cricket, where he's seen batting as comedy actor Mohammed Umar Mukri is fielding, Saira shared how enthusiastic the Devdas actor was about cricket. She wrote, "I always love to see this photograph as I know of his yearning as a youngster to become the country's best sportsman! However, The Almighty and Fate had fashioned a very different destiny for Mohammed Yousuf Khan… at that time, every evening after college he always went to the grounds behind the Metro Cinema to play cricket and football with passion. With other like minded sports enthusiasts…"
Saira then shared how her superstar husband had shared a story of himself buying his first ever bat. She wrote, 'Sahibji sweetly narrated to me how with great excitement he purchased his first cricket bat and sports shoes from a shop near Metro Cinema…! The athletic side of Dilip Sahib was so strong while in school and college that he emerged a winner and victorious also in every 200 meters race."
Saira then remembered how Dilip Kumar trained her in bowling to play for his and Raj Kapoor's team at a benefit match. "A funny incident I recollect was when we were just married….Once all the film stars got together to play a benefit cricket match…. Sahib ji trained me for a week long in our garden for bowling… we were to play in Dilip Kumar Sahib's Team and Raj Kapoor Saab's team….With my bowling… can you believe I bowled the captain out first ball…to which Raj ji could not stop laughing "Arrey, yeh ladki toh serious ho gayi hai"…eventually I bowled out 8 of them 😆," Saira concluded her note.
As soon as she posted this note, Sunil Dutt's daughter, politician Priya Dutt took to the comments section of the post and wrote, "Wow what super memories, thanks for sharing Saira aunty." A fan wrote, "I love to hear old gold memories…such an honour 😍❤️," yet another person wrote, "It feels so good to read and see your posts mam. Keep sharing …. All our love and respect to you 😇😇😇😍.."
DIlip Kumar passed away on July 7, 2021.
First published on: 11-07-2023 at 17:21 IST