Suchitra Krishnamoorthi had apparently blamed Preity Zinta for her failed marriage with filmmaker Shekhar Kapur.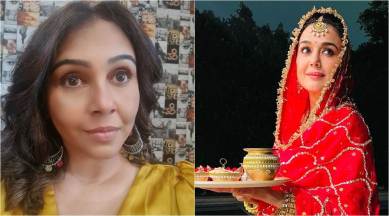 Suchitra Krishnamoorthi says Preity Zinta doesn't exist for her. (Photo: Suchitra Krishnamoorthi, Preity Zinta/Instagram)
Listen to this article
Your browser does not support the audio element.

In the early 2000s, actors Preity Zinta and Suchitra Krishnamoorthi got into a war of words as the latter apparently blamed Preity for her failed marriage with filmmaker Shekhar Kapur. Recently, Suchitra said that even after over 15 years of her divorce, she has not forgiven Preity. She added that for her, Preity doesn't exist.
Suchitra and Shekhar Kapur got married in 1997 and they parted ways in 2006. The Kabhi Haan Kabhi Naa actor said her husband was unfaithful and after her divorce, she wrote a poem on her blog where she mentioned that a "maneater" came in between her and Shekhar. Though she didn't mention who it was in her blog, she agreed it was Preity in various interviews at the time.
Recently, during an interview with Bollywood Thikana, the interviewee quoted Preity's words to Suchitra, "I am the number one actress and you don't even work, you are a homemaker. Suchitra, don't talk to me like that. You need to see a psychiatrist, your mind is not in the right place." Asked how did she take what Preity said about her, Suchitra said, "I didn't have to take it. It's a free world and she can say what she likes. I am very proud to be a homemaker. I was a full-time mom for 20 years and I am very proud of it."
You have exhausted your
monthly limit of free stories.
To continue reading,
simply register or sign in
Continue reading with an Indian Express Premium membership starting Rs 91 per month.
This premium article is free for now.
Register to read more free stories and access offers from partners.
Continue reading with an Indian Express Premium membership starting Rs 91 per month.
This content is exclusive for our subscribers.
Subscribe now to get unlimited access to The Indian Express exclusive and premium stories.
She added, "People are entitled to say whatever they want to say. Lies have speed and truth has stamina."
In 2007, during an interview with Vickey Lalwani, Suchitra Krishnamoorthi had also challenged Preity Zinta to sue her if she thinks she is wrong. "She can say what she wants. If she thinks it's not her and that I am wrong, she should sue me," Suchitra was quoted as saying. After the fiasco, Preity was rumoured to have called Sucitra to apologise and even invited her and her daughter Kaveri to the premiere of her film Jaan-E-Mann. But Suchitra refused to go.
In the latest interview, Suchitra also said she has not yet forgiven Preity as she believes, "I don't need to (forgive her). She is not a part of my consciousness at all. All these things do not exist for me, which is a good space to be in." She agreed that Preity doesn't exist for her anymore.
Preity Zinta is now married to Gene Goodenough. The couple became parents to twins in 2021.
© IE Online Media Services Pvt Ltd
First published on: 11-07-2023 at 10:22 IST