In a recent interview, Suchitra Krishnamoorthi spoke about her troubled marriage with filmmaker Shekhar Kapur. The couple co-parent their daughter, Kaveri Kapur.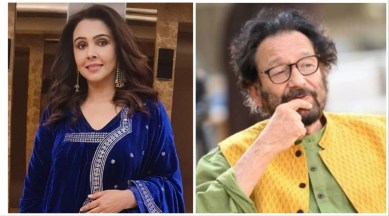 Suchitra Krishnamoorthi opens up about her troubled marriage with Shekhar Kapur. (Pic: Suchitra, Shekhar/Instagram)
Listen to this article
Your browser does not support the audio element.

Actor-singer Suchitra Krishnamoorthi and filmmaker Shekhar Kapur were married for 12 long years before they called it off in 1999. In 2020, they again made it to the news with reports of them having a property dispute doing the rounds. Now, in a recent interview, Suchitra opened up about her tumultuous marriage with the Masoom director. Reflecting on their relationship, she discussed her teenage obsession with him, Shekhar's infidelity and the challenges they faced during their union.
Despite coming from a conservative family, Suchitra made a name for herself in the regional and Hindi film industry. She became a favourite of the audience with her role opposite Shah Rukh Khan in Kundan Shah's Kabhi Haan Kabhi Naa. However, her journey in acting was hindered by her then-husband Shekhar Kapur, who did not want her to pursue a career in the film industry.
Speaking about the same to Siddharth Kannan, Suchitra Krishnamoorthi said, "My husband didn't want me to act. But it wasn't a big deal for me. I came from a non-filmy background. I started getting film offers when I was in school and college. In college, I got the offer to do Kabhi Haan Kabhi Naa. While I was in college, I did a Malayalam film. My parents were very strict, they didn't want me to act. But I lied to them and went to Kochi to shoot for a film. After that, I did a lot of films that became superhits. But then my husband was very clear that he doesn't want his wife to act. I was too naïve to understand the thinking of a person who asks you not to work. But it wasn't a big deal for me, I had more talent than ambition. So I never thought that anything will ever stop in my life, though it did."
You have exhausted your
monthly limit of free stories.
To continue reading,
simply register or sign in
Continue reading with an Indian Express Premium membership starting Rs 91 per month.
This premium article is free for now.
Register to read more free stories and access offers from partners.
Continue reading with an Indian Express Premium membership starting Rs 91 per month.
This content is exclusive for our subscribers.
Subscribe now to get unlimited access to The Indian Express exclusive and premium stories.
Talking about how she met Shekhar Kapur, she said, "I feel that my marriage to Shekhar Kapur was karma that I had to fulfil. Because when I met him I got obsessed. When I was a 10-12-year-old kid, I used to think that I will either marry Imran Khan (former cricketer and former PM of Pakistan ) or Shekhar Kapur. I went to meet him when he was casting for a film called, Champion. However, the film didn't see the light of day. Then I kept meeting him and one thing lead to another. Mujh toh pyaar hogaeya, but he was serious that boss I am not serious. But I was so conservative in my head, I said to him, "I am not that type of girl. I will not see you again if you don't marry me. Toh maine dhamki se unke shaadi mujhse karvali."
Despite Suchitra's confidence in her decision, her parents vehemently opposed the marriage due to the age gap and Shekhar's previous divorce. She said, "My parents were against this marriage as Shekhar was my mother's age at that time and he was divorced and from the film industry. My mother sat at my feet and begged me not to go forward with this marriage. They asked me to have an affair and get it out of my head. But I was sure that this is what I want and it is something that I brought on myself."
In the interview, Suchitra Krishnamoorthi also revealed that she met Shekhar Kapur when she was 19 and they got married when she was 22 years old. The cracks in their marriage began to surface within the first year, leading Suchitra to contemplate leaving the marriage. However, her plans changed when she discovered she was pregnant with their daughter, Kaveri Kapur. "At the time I got pregnant, I was about to leave my marriage. I got a scholarship at the Berkeley School of Music and wanted to learn music but then I got pregnant. So, I feel fate has a way of unravelling itself. After getting pregnant, I stayed for a few years, but then I said, 'Forget it, mujhse nahi hota,'" she said.
Addressing the topic of infidelity, Suchitra admitted that Shekhar was unfaithful during their marriage. When asked if it shattered her, she replied, "I don't think marriages break because of infidelity, they break up because of disrespect."
Suchitra Krishnamoorthi was last seen in 2022's Amazon Prime Video show Guilty Minds.
© IE Online Media Services Pvt Ltd
First published on: 10-07-2023 at 17:25 IST