Bengaluru: Newly elected Karnataka chief minister Siddaramaiah and deputy chief minister D K Shivakumar were administered oath in a grand ceremony here on Saturday exactly a week after the party swept the assembly polls in Karnataka.
The oath of office was administered to the two leaders by state governor Thaawarchand Gehlot at the ceremony held at the Kanteerava Stadium.
This is the second tenure for 75-year-old Siddaramaiah as the chief minister. He previously served as Karnataka CM between 2013 and 2018. While he took oath as the 24th chief minister of the state in the name of God, Shivakumar took oath of public office in the name of his spiritual guru Shri Gangadhara Ajja.
Eight MLAs were also sworn in alongside as ministers at the event. AICC president Mallikarjun Kharge, Congress leaders Rahul Gandhi and Priyanka Gandhi attended the ceremony.
G Parameshwara (SC), K H Muniyappa (SC), K J George (Minority-Christian), M B Patil (Lingayat), Satish Jarkiholi (ST-Valmiki), Priyank Kharge (SC and AICC President M Mallikarjun Kharge's son), Ramalinga Reddy (Reddy), and B Z Zameer Ahmed Khan (Minority-Muslim) are amogst the ministers assuming charge in Karnataka's new cabinet. 
Parameshwara took the oath of office in the name of the Constitution, veteran Congress leaders K H Muniyappa and K J George took oath in the name of God.
The swearing-in ceremony witnessed opposition unity as several prominent leaders and chief ministers of Congress-ruled states were in attendance.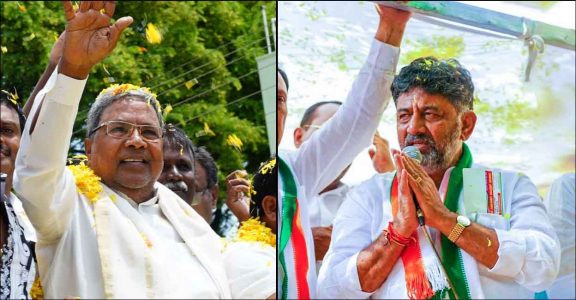 Bihar chief minister Nitish Kumar, Rajasthan chief minister Ashok Gehlot, Tamil Nadu CM M K Stalin, Nationalist Congress Party president Sharad Pawar, Chhattisgarh CM Bhupesh Baghel and former Jammu & Kashmir CM Farooq Abdullah were among the top leaders who were at the function.
Former union minister M Veerappa Moily said the swearing-in could be a launchpad for opposition unity and demonstration of its strength and solidarity.
Tamil superstar Kamal Hassan, Kannada super star Shivaraj Kumar, popular actor Duniya Vijay, actress-turned-politician Ramya, actress Nishvika Naidu, senior actress turned politician Umashree and film director, producer V Rajendra Singh Babu attended the event.
Hectic parleys
'Siddaramaiah and Shivakumar, who flew in from Bengaluru along with general secretary in-charge Randeep Surjewala, held a series of meetings on Friday in the national capital over cabinet formation.
Siddaramaiah held a closed-door meeting with AICC general secretary K C Venugopal and also with Surjewala. Later D K Shivakumar joined them in the discussions over the probable names to be included in the new cabinet.
After hour-long deliberations on Friday, both Siddaramaiah and Shivakumar along with Surejwala and Venugopal met Rahul Gandhi at 10, Janpath, where the leaders held talks for over an hour and a half.
After meeting Rahul Gandhi, Surejwala and Venugopal headed to party chief Mallikarjun Kharge's residence where they are said to have finalised the list of ministers, which sources said would be around 20.Venugopal had earlier said "a bunch" of ministers would be taking the oath.
Poll promises 
Before leaving for Delhi, Shivakumar said fulfilling the promises made to the people is the first priority.
"Cabinet, people, all those things we will let you know later, we will not do anything leaving you (media), there is no need for any speculation. We will work unitedly," he said.
The first challenge that Siddaramaiah is expected to face is putting in place a cabinet with the right combinations that will strike a balance in having representatives from all communities, regions, factions and also from among the old and new generations of legislators.
With the sanctioned strength of the Karnataka Cabinet being 34, there are too many aspirants for ministerial berths.
Congress has promised to implement "guarantees" like 200 units of free power to all households (Gruha Jyoti), Rs 2,000 monthly assistance to the woman head of every family (Gruha Lakshmi), 10 kg of rice free to every member of a BPL household (Anna Bhagya), Rs 3,000 every month for graduate youth and Rs 1,500 for diploma holders (both in the age group of 18-25) for two years (Yuva Nidhi), and free travel for women in public transport buses (Shakti), on the first day of assuming power in the state.
(With PTI inputs)