Akhil Rawat
AIFF Media Team
BENGALURU: The Indian senior men's team will face Lebanon for the third time in little over a fortnight in the semi-final of the Bangabandhu SAFF Championship 2023, at the Sree Kanteerava Stadium in Bengaluru, on Saturday, July 1, 2023.
After playing out a goalless draw in the group stage, the Blue Tigers secured a convincing 2-0 win over the Cedars to claim the Hero Intercontinental Cup title in Bhubaneswar. Igor Stimac's men then travelled to the south of India to take part in the 14th edition of the SAFF Championship, which is also the first to feature guest teams like Lebanon and Kuwait.
India finished Group A in second spot, only trailing Kuwait on goals scored, with wins over Pakistan (4-0) and Nepal (2-0). The top spot was within the hosts' grasp as they led 1-0 against Kuwait just six minutes before the full-time whistle on Tuesday until Anwar Ali's own goal restored parity, leaving India to remain content with second place. The day after, Lebanon edged Maldives 1-0 to end their Group B campaign with a perfect nine points, adding to their wins over Bangladesh (2-0) and Bhutan (4-1).
Stimac was shown his second red card of the tournament against Kuwait, leading to his suspension from the dugout for the crucial semi-final clash. However, captain Sunil Chhetri assured the team will do just fine under assistant coach Mahesh Gawali.
"A lot of preparation is done before the game day, where he (Stimac) will be involved. Of course, you want your leader to be on the sidelines. But whatever little we'll miss during the match, his main man (Gawali) will make sure we miss him less," said Chhetri.
Gawali, who also took the reins during the 2-0 win against Nepal, is determined to repeat what the Blue Tigers did against Lebanon in Odisha. "Our boys are motivated, committed, and focused on the fight against Lebanon. We'll continue with the same attitude we've shown so far in the tournament," said the former India international.
"They had issues with the weather in Bhubaneswar, but they're playing better here. It will be a different match. They are a strong attacking side. Their number seven (captain Hassan Maatouk) is a very talented player," shared Gawali when asked for his thoughts on Lebanon.
Adding to his former teammate's words, Chhetri said, "We know quite a lot about Lebanon as we've already played them twice. I'm sure they have the same feeling about us. They would also want a piece of us back because of what happened in the last two games."
Sandesh Jhingan's second yellow card of the tournament against Kuwait meant that the sturdy central defender would also be unavailable for the semi-final. While acknowledging what a big blow it will be for India to not have the Hero of the Tournament from the Intercontinental Cup in tomorrow's line-up, Chhetri assured that his boots will be duly filled.
"Personally, I always want to play with Jhingan, whether in the national team, club or training ground. The number one reason for that is that he does not like to lose. I hope, after the game, I can tell you that we didn't miss him because whoever comes in his place will do justice and give his best, and I know that for a fact," said the skipper.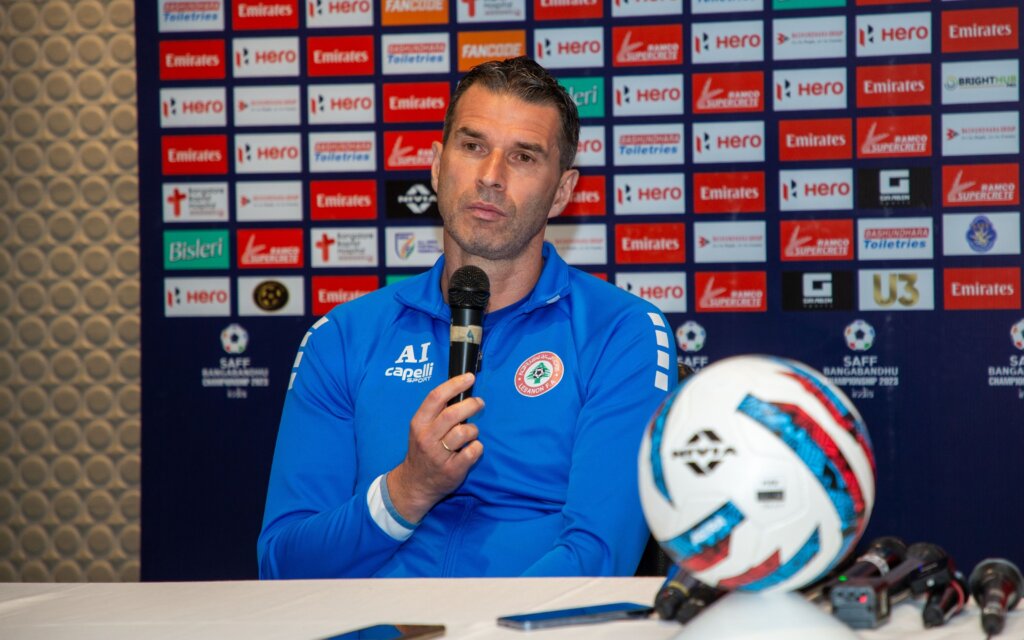 Always fond of playing in front of his home fans at the Kanteerava, Chhetri cannot wait for more unconditional support from the stands tomorrow. "Me and a lot of boys are quite greedy when it comes to playing in Bengaluru. We've been treated to some outstanding support in the last three games. I'm pretty sure you will also turn up for the semi-finals because you all love football and it's a big game for us."
Lebanon head coach Aleksandar Ilic is hoping to learn from their mistakes in Bhubaneswar and give the hosts a run for their money this time. The cooler weather in Bengaluru will work in their favour, according to the Serbian coach.
"Both teams know what they've got in front of them. There are no secrets between the teams anymore. We will try to build the best team with the choices we have for tomorrow. We are very motivated. It's psychologically important that we believe that we can succeed. The weather is more pleasant here. We will use those two games to build ourselves in a better way for tomorrow," said Ilic.
"For us, this game is very important. We've worked hard for the last two months and really want to prove ourselves. This will be our eighth game in India. Two of our players (Jihad Ayoub and Soony Saad) have returned to their clubs since this tournament isn't taking place during the FIFA international break. But we will adapt ourselves against a very strong team," added the Lebanon gaffer, who called up Mohamad Sadek and Ali Shaitou as replacements.