The public events speak to Narendra Modi's popularity among supporters – the adoring crowds waving banners, the car convoys and privately chartered "ModiAirways" flights for those who will travel thousands of kilometres to hear him speak.
But for the same man, posters have sprung up around Sydney – before being torn down – offering $10,000 for the citizen's arrest of the "Hindu Terrorist Modi" and graffiti has been daubed on a Hindu temple in western Sydney reading: "Declare Modi Terrorist".
The Indian prime minister will land in Australia this week as one of the most powerful leaders in his country's modern history. But also one of its most divisive.
He leads an increasingly polarised country. India's diasporas, too, are increasingly split.
The Sydney broadcaster Manbir Singh Kohli, who hosts the weekly Kehte Sunte (Speaking & Listening) radio program, says: "In India, the schisms between communities are getting sharper.
"And unfortunately we are seeing that in Australia too, a polarisation of our communities is worse than it has ever been – the trolling, the division. Earlier, the Indian diaspora used to be proud together but now we are divided."
India is now the most populous country on Earth and demographics, properly harnessed, are on its side: its economy will surpass those of Germany and Japan in the next half-decade to become the third largest in the world, behind the US and China.
Modi's government claims its policies – addressing food security, banking, pensions – have lifted millions of India's poorest from poverty.
But its leader, dominant as he approaches the end of his second term as prime minister and poised to win a third, is profoundly controversial.
Modi's Bharatiya Janata party (BJP) government is accused of a repressive and intimidatory campaign against political opponents – including scion of the Nehru-Gandhi dynasty Rahul Gandhi – independent media and civil society organisations.
Legislation such as the citizenship amendment bill has been criticised as unlawfully discriminating against Muslims, while the farm bills deregulating agricultural markets were abandoned only after more than a year of fervent protests and several hundred deaths.
Modi's government is even accused of attempting to rewrite history to fit its Hindu nationalist agenda, with school textbooks edited to remove references to Mahatma Gandhi's opposition to Hindu nationalism, to the country's Mughal history – the Muslim rulers who controlled significant parts of India for centuries – and to the 2002 anti-Muslim pogrom in Godhra, which claimed more than 1,000 lives and in which Modi, then chief minister of the state of Gujarat, was implicated.
Critics of Modi's government argue he has sought, through the vast power of his BJP, to reinvent the very idea of India: the pluralist, secular conception of India of Jawaharlal Nehru undermined and eroded, and replaced by the BJP's vision of a country dominated by its aggressive Hindu nationalism, with places only at the margins for India's multiplicity of minorities.
Modi will speak at a boisterous public rally – a mix of music, dance and politics at which more than 20,000 people are expected – at Sydney Olympic Park on Tuesday, hosted by the Indian Australian Diaspora Foundation (IADF). Privately chartered flights – publicised as yatra, akin to pilgrimage – will bring supporters from interstate.
"He attracts this huge crowd for his exemplary and visionary leadership that is transforming and developing India at an unprecedented pace," Jay Shah, director of the IADF, says.
"PM Modi is the most popular leader of India at the moment and has a great appeal and following, not just in India but also in many Indians living abroad."
In 2014, Modi was the first Indian prime minister to visit Australia since Rajiv Gandhi, during the premiership of Bob Hawke. Shah says Modi vowed on that trip Indian leaders would come more regularly to Australia.
"He is keeping his promise and visiting again … This … reflects the speed at which the relationship is growing between our two countries."
Of the criticism that clings to Modi, Shah says it reflects India's robust democracy.
"We respect the fact that people can have different views.
"Mr Modi and his government contend that all policies are aimed at addressing specific challenges and ensuring safety and wellbeing of all citizens of India."
'Australia should speak frankly'
Kohli, however, argues Modi's "abrasive" government has abandoned democratic accountability to parliament or to the Indian people.
"This government doesn't answer to anybody on anything. There is no accountability, we have seen that in the Adani controversy [Modi's close links to tycoon Gautam Adani] or over the farm bills."
"Australia is seeking to strengthen its relationship with India," Kohli says – economically, with a new free trade agreement in force and the recognised potential of India's growing market and rising middle class; but also geo-strategically, in alliances such as the Quad serving as a counterpoint to China's growing influence.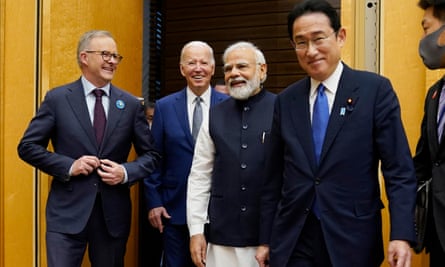 But Kohli says Australia should take a firmer line in its dealings with Modi's government.
"Modi is a powerful leader. But if you're a good friend of somebody you can also be critical politely," he says. "Australia should speak frankly."
The Indian Muslim Association of Australia has not planned any protests against Modi during his Australian visit. Public officer Sirajuddin Syed says the organisation respects the position of prime minister of India while rejecting the policies of the man holding the office.
"India is home to more than 200 million Muslims, but under Narendra Modi's government Indian Muslims have faced systemic discrimination, prejudice and violence despite constitutional protections."
Dr Pradeep Taneja, academic fellow with the Australia India Institute, says Modi is seen by his most ardent followers as an almost "messianic" leader, but by his detractors as a dangerously divisive figure "who has polarised Indian society along religious lines".
"There is no doubt that some of the Modi government's populist policies, such as increased cooking gas connections and other subsidies, have benefited people regardless of caste or religion," Taneja says.
"But it is also true that Modi and other ruling party figures frequently engage in what can only be described as 'dog-whistle politics' targeting India's largest minority. This is also reflected in the rewriting of Indian history, changing of place and street names across the country and the tolerance of violent acts against the minority community."
The Quad meeting that was Modi's primary reason for visiting Australia has been cancelled through the absence of the US president, Joe Biden. But Modi has chosen to come to Australia regardless, a further sign that Australia and India's "interests are much more aligned today than ever before in history", Taneja says.
He agrees Australia has a "difficult line to walk" in its dealings with Modi's government.
"The reality is that Australia and India need to work together to deal with the changed security situation in the Indo-Pacific region.
"So long as Modi is popularly elected by the Indian electorate, I don't think Australia would gain anything by publicly criticising Indian government policies. Instead, Australia should communicate the message indirectly by emphasising its own views on human rights and respect for religious diversity."