Typos and grammar mistakes are common in conversations, especially when you are on the go or typing without autocorrection. While you can follow up with a correction or retrieve the message, editing the sent text is more convenient for both sides. Following the footsteps of iMessage and Telegram, WhatsApp, the world's biggest chat app, announced an option to edit text messages to take care of such typos.
Did you accidentally send your friend or loved one the wrong movie time on WhatsApp? Before your typo leads to confusion and mistakes, quickly edit the message to avoid any further mess. The ability to edit sent WhatsApp messages is available on Windows, Mac, iPhone, top budget Android phones, and the web.
Editing messages on WhatsApp: Requirements
Before we start, let's set some rules straight. Otherwise, the message editing feature may not work as expected.
You won't see the Edit option on an outdated WhatsApp app. Make sure to install the latest WhatsApp app on your iPhone, Android, Windows desktop, or Mac. The company's desktop app is available on the Microsoft Store and Mac App Store.
The recipient also needs to use the latest WhatsApp version on their phone.
You can only edit the message within 15 minutes of sending the message. The Edit option disappears after that.
You can edit the sent WhatsApp message only from the device from which it was sent. You can't send a message from your Android phone and edit it using the desktop app within the time limit. You must use the original device to edit the text.
How to edit WhatsApp messages on Android
Now that you know the requirements for editing a sent message on WhatsApp, let's check it in action. Like your regular WhatsApp messages, calls, and media, your messages and edits are end-to-end encrypted.
Launch WhatsApp on your Android phone and open a conversation.
Long-tap on a message you want to edit.
Tap the three-dot menu in the upper-right corner.
Select Edit.

Fix your typos or enter a new message and tap the checkmark beside it.
That's it. The recipient only sees the new message with the Edited banner under it. Check the screenshot below for reference.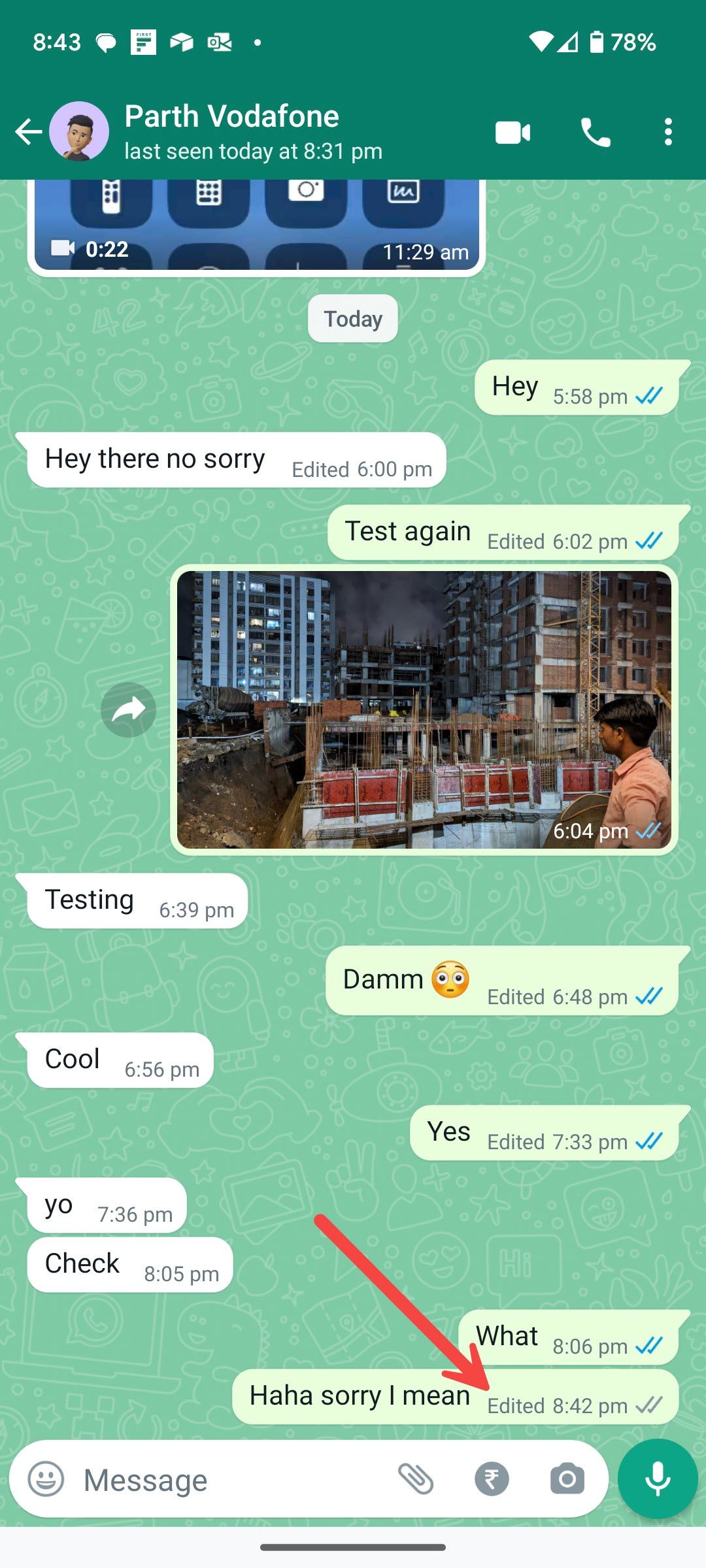 How to edit WhatsApp messages on iPhone
If you use WhatsApp on your iPhone, use the steps below to edit typos in conversations.
Open a chat thread in WhatsApp for iPhone.
Long-tap on a message and tap Edit from the floating menu.
Type a new message and tap the checkmark.
WhatsApp doesn't send a notification about edited messages. The message timestamp also remains unchanged.
How to edit WhatsApp text on Windows
WhatsApp used to offer web-based apps on Windows and Mac. The Facebook-owned company wants to change that. WhatsApp recently announced a desktop Windows app that looks and feels modern with neat animations and all the major features. We used the new WhatsApp app on Windows in the screenshots below.
Launch WhatsApp and open a recent conversation.
Right-click on a message.
Select Edit. WhatsApp shows your existing text in the same field.
Type a new message and check the original one at the top.

Click the checkmark to confirm the tweaked text.
How to edit WhatsApp messages on Mac
WhatsApp has an app on Mac, too. If you prefer to use WhatsApp on a Mac, glance over the steps below to edit a sent message.
Open a conversation in WhatsApp for Mac.
Right-click on a message and select Edit. It opens a pop-up window to edit the message.

Type a new message and click the checkmark.
If you use WhatsApp on Google Chrome, Microsoft Edge, or Safari, use the same steps as above to edit a message. The company is working on a macOS app with beta testers. As of now, the message editing function isn't unavailable on it.
Our observations with editing sent messages on WhatsApp
WhatsApp places a few limitations on the messages you can edit:
You can't edit several messages at once in WhatsApp.
Once you edit a message, the recipient can't see the original message.
You can edit a message multiple times within the 15-minute time limit. But you can't check the message history.
You can edit a message in personal chats and groups. The same isn't available on WhatsApp Community announcement groups.
Overall, it's a solid feature that saves you from embarrassing situations. After the 15-minute window, you can't edit sent messages. You must delete the message for everyone and send a text again. WhatsApp lets you undo a sent message for up to 48 hours. Two days should be sufficient to realize your mistake and delete the message from both sides.
Fix your typos without leaving a trace!
WhatsApp is on a roll with new privacy features in 2023. The company recently added an option to silence unknown callers on the platform. You can also read our top WhatsApp privacy tips and tricks to keep strangers and prying eyes away from your account.