K-pop band BTS recently celebrated their 10 year anniversary and released their book Beyond the Story: 10-Year Record of BTS.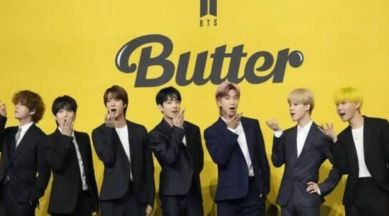 V, Suga, Jin, Jungkook, RM, Jimin, and J-Hope pose for photographers at an event. (AP Photo/Lee Jin-man)
Listen to this article
Your browser does not support the audio element.

On July 9, which also happens to be the anniversary of their fandom ARMY, popular K-pop group BTS surprised their fans by releasing their book titled Beyond The Story: 10-Year Record Of BTS. Excitement among fans has reached new heights, and some of them have already shared a few spoilers from the book on the internet. Here are a couple of those spoilers that have been circulating.
SUGA would 'eat to live'
In the book, Jin revealed SUGA's weird combination of food, adding, "Suga would basically just 'eat to live.'" The singer shared, "He ate chicken breasts for protein but even eating them was too much of a hassle for him so he would blend it with some grape juice and a banana and gulp that down straight from the blender."
You have exhausted your
monthly limit of free stories.
To continue reading,
simply register or sign in
Continue reading with an Indian Express Premium membership starting Rs 91 per month.
This premium article is free for now.
Register to read more free stories and access offers from partners.
Continue reading with an Indian Express Premium membership starting Rs 91 per month.
This content is exclusive for our subscribers.
Subscribe now to get unlimited access to The Indian Express exclusive and premium stories.
Jin on becoming an actor
Jin recalled the time he was approached by the agency BigHit Entertainment. He revealed how they convinced him and added that their promise is yet to be fulfilled. He wrote, "Look at how idols these days go into acting, we'll let you become an actor eventually. That's how they convinced me."
When Jin grew Strawberries and Melons
Jin's family once suggested that he try the 'farm life'. He said, "My parents said, 'Let's try different things to see what you have an aptitude for.'  And that my granddad, grandma, and uncle were farmers, so why not try farming for a bit? That's how I ended up growing strawberries and melons for a month. I did so much pruning for the melons that I didn't want to eat melons for a long time after that."
A 'shy' Jungkook 
Jungkook opened up about his shy personality in the book. He said, "My personality completely changed. Being tossed into a place full of strangers made me very shy all of a sudden. I would try to avoid everyone else's shower times when using the bathroom, and I slept in the upper bunk of a bunk bed, but even as I sweated from the heat at night, I wouldn't go down from my bed in case I woke up the hyung sleeping in the lower bunk .I realized then, 'Ah, I'm just very shy.'"
When V fought with Jimin over dumplings
V revealed that he once had a busy day shooting for a drama and preparing for an album. Feeling hungry, he asked the manager to order dumplings, and he ended up eating them during choreography practice. He said, "But Jimin didn't know my situation, so he said we should eat after practice, and we had a squabble."  V said that the fight was resolved a few days later over drinks.
© IE Online Media Services Pvt Ltd
First published on: 13-07-2023 at 15:37 IST