Ends up with figures of 12-3-22-4, justifying the hype around the 24-year-old in Karnataka cricket.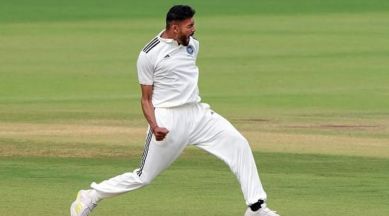 South Zone bowler Vidwath Kaverappa celebrates after taking the wicket of North Zone batter Prashant Chopra during the second day of second semifinal match of Duleep Trophy at M Chinnaswamy Stadium, in Bengaluru, Thursday, July 6, 2023. (PTI Photo)
Listen to this article
Your browser does not support the audio element.

Everything about Vidwath Kaverappa, the fast bowler looks natural. Be it his run-up or the delivery stride, he hits the right notes. Just like how he hits the right line and length with the precision of a seasoned surgeon. On another rain-curtailed day at M Chinnaswamy Stadium where South Zone made a stunning comeback after being bowled out for 213 on Day 2 of the Duleep Trophy final against West Zone, it was Kaverappa who hogged all the limelight.
Watching the one spell Kaverappa bowled in which he ended up with figures of 12-3-22-4, it is totally understandable why there is hype around the 24-year-old in Karnataka cricket. A find of the Karnataka State Cricket Association (KCSA)'s talent hunt programme, he was only 16 when he attended the trials in Mangaluru eight years back. His coach Sameul Jayaraj – one who coached KL Rahul too – says he was always destined to be a fast bowler.
"He is a Kodagu (Coorg) boy, who hails from Madikeri, and you will not find a more natural fast bowler than him. Athletes from the region (considered the cradle of Karnataka hockey) are usually athletic and even as a young boy, he had the pace which stood out from the rest of the boys who attended the trials. So it was quite obvious for us to zero down on him as one for the future," Jayaraj, who was at the stadium on Thursday, told The Indian Express.
You have exhausted your
monthly limit of free stories.
To continue reading,
simply register or sign in
Continue reading with an Indian Express Premium membership starting Rs 91 per month.
This premium article is free for now.
Register to read more free stories and access offers from partners.
Continue reading with an Indian Express Premium membership starting Rs 91 per month.
This content is exclusive for our subscribers.
Subscribe now to get unlimited access to The Indian Express exclusive and premium stories.
Hailing from a humble background, Kaverappa had second thoughts when Jayaraj invited him to stay back in Mangaluru and train. But eventually, Kaverappa would be convinced that there is something special in him. "The program was meant to unearth special talents from the mofussil centres and with KSCA taking care of everything, all we wanted was commitment from the boy and once he came on board, everything fell in place. From taking care of the nutrition to diet and all the fitness parameters, the KSCA and its coaches put a plan in place. All that we wanted from Kaverappa was he should continue to bowl fast and that is what he did," Jayaraj says.
From Mangaluru, Kaverappa would head to Bengaluru where he would play local division before being part of the Under-19 and Under-23 Karnataka team. During the 2021/22 season, Kaverappa would make the much awaited Ranji Trophy debut in Chennai against Pondicherry. And in the last Ranji season, his first full season, he would end up with 30 wickets in 8 matches, forming a partnership with fellow-pacer Vijaykumar Vyshak. "Apart from his hard work, what sets Kaverappa apart is his maturity. He is a very quick learner and can adjust to the conditions swiftly. Last season, he began to make all the right noises and hopefully he can continue doing that. It won't be easy going forward because he has to manage his body well and give it adequate recovery time. If he can keep himself fit, then he will definitely go the distance," Jayaraj says.
Bowlers come good
On Thursday, after South Zone's batting line-up failed to put a big total on board, they needed their bowlers to come good. From the outset the final was labelled as one between South bowlers vs West batters. And having started with left-arm spinner Sai Kishore from one end, South were playing catch-up as West Zone started off to a strong start despite losing captain Priyank Panchal for 11 in the seventh over. Prithvi Shaw, in the company of Harvik Desai, was playing some crisp shots, waiting for the bad deliveries to pounce on. But a rain break in the afternoon session arrived at the right time for South to regroup.
With forecasts of rain in store, it could all come down to first innings lead to decide the winner and South Zone needed their pacers to lift them. And it was Kaverappa who would begin their slide as he would take care of Desai for 21 and Shaw perished soon after.
In an innings where he got off to a quick start – was scoring more than a run a ball till he reached 30 – Shaw was made to work hard for the remaining 35 runs he made. Although he showed good composure, his biggest test awaited now as South opted to test West batsmen with a barrage of short deliveries. With good field positions to back the field, Kaverappa and his statemate Vyshak were relentless in attack. All it needed was West batsmen to play out the spell and cash in. But they seldom showed patience.
As Vyshak delivered a short one around the off-stump line from around the wicket, Shaw – instead of letting it go unbothered – would attempt an uppercut, which was pouched safely by Kaverappa at third man. From there on Kaverappa took over. Employing a similar line, with each of the short deliveries forcing the batsmen to play, Kaverappa bowled his heart out. Suryakumar Yadav, who survived a pull that just flew over the diving Sai Kishore at deep-square leg, edged one to the cordon. Expecting a short delivery, Yadav stood rooted to the crease, and Kaverappa bowled an outswinger that the batsman had no option but to play. And the resultant edge was taken by Hanuma Vihari at first slip.
114/4 would become 115/6 as Sarfaraz Khan collected his second zero in the third innings. Having watched the two pacers deliver a barrage of short deliveries, like Yadav, Sarfaraz stood back in the crease, expecting a similar length. But Kaverappa has loads of tricks up his sleeve and sent in a full ball that caught him LBW. At the other end, Cheteshwar Pujara stood helpless. Having been subjected to similar line and lengths, Pujara was up for the fight, defending short deliveries with loose hands which completely neutralised the short-leg fielder. The bounce and hook were shelved as Pujara successfully resisted for 37 deliveries. The 38th, one of the rare bad deliveries that Kaverappa bowled in the spell, Pujara played a flick that looked destined to go for a boundary. But having seen Pujara neutralize the short-leg fielder, Vihari had positioned R Samarth in a wide leg-gully, where he took a wonderful reflex catch to give Kaverappa his fourth.
Vyshak would still find time amid fading light to scalp Shams Mulani as West ended Day 2 at 129/7.
First published on: 13-07-2023 at 18:20 IST